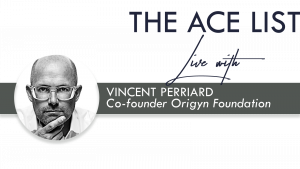 For the first episode of the third season of The Ace List Live we are very honoured that watch industry veteran and web3 innovator Mr. Vincent Perriard, co-founder of Swiss ORIGYN Foundation, will sit down with Ace Jewelers' own Alon Ben Joseph.
Vincent Perriard deserved his stripes in the watch industry at TechnoMarine, Concord and HYT Watches. A few years ago he had the vision to co-found a DAO that developed a technology that can authenticate luxury objects by using the 'micro structure traceability' of the actual object. The certificate is then minted as a NFT and stored on the blockchain.
Ace Jewelers will be the first retailer to start issuing these ORIGYN certificates of authenticity for wristwatches. Read the full press release HERE.
Join us live and participate via Ace Jewelers social media channels:
– YouTube: YouTube.com/AceJewelers
– Facebook: Facebook.com/AceJewelers
– LinkedIn: LinkedIn.com/company/Ace-Jewelers
– Twitter: Twitter.com/AceJewelers