Live Season 3: Davide Cerrato of HYT Watches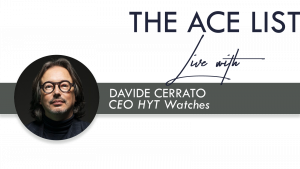 One of the most influential watch designers in the industry, Davide Cerrato, has started a new chapter in his impressive career. Today he is the CEO & Creative Director of HYT Watches. An excellent reason to invite Davide back on the show. Last season he was our guest for the first time and it turned out to be a fun conversation with Ace Jewelers' Alon Ben Joseph. You can watch episode S02E07 HERE.
In the previous episode we extensively discussed his evolution as watch designer. And, his successes at Panerai, Tudor and Montblanc. We are very curious what his vision and strategy is to take the ultra innovative and contemporary HYT Watches. Their DNA is made up of a new fluidic module encapsulating 10 years of learnings and improvements, an evolution of the manufacture mechanical caliber developed with Eric Coudray delivering a perfect synchronization of fluidic and mechanical time.
Join us live and participate via Ace Jewelers social media channels:
– YouTube: YouTube.com/AceJewelers
– Facebook: Facebook.com/AceJewelers
– LinkedIn: LinkedIn.com/company/Ace-Jewelers
– Twitter: Twitter.com/AceJewelers