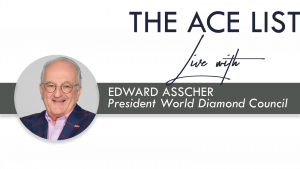 Edward Asscher, President of the World Diamond Council (WDC), will join Alon Ben Joseph of Ace Jewelers on November 2, 2021 to talk everything diamonds.
It's a great honor to welcome Edward Asscher on the show. During the first season both of Edward's children Lita Asscher (S01E09) and Mike Asscher (S01E03) appeared on The Ace List Live. Although Edward Asscher, the fifth generation of this diamond dynasty officially retired as the President of Royal Asscher Diamond Company last year, he is definitely not taking it easy. He become the President of the World Diamond Council, for the second time!
Edward has always been a great inspiration and mentor for Alon. He knows him from his childhood as he was friends with Mike and started working with Edward in the early 2000s buying diamonds from him. During this live session Edward will educate all of us on the current state of the diamond industry. It promises to be a very interesting episode.