Channel your inner Maverick with these five cool pilot's watches.
What constitutes a pilot's watch? On a meta level I'd say a watch for cockpit duty has to be superbly robust, reliable, and legible. It's been well over a century since Cartier created a watch for aviation pioneer Alberto Santos-Dumont, and in that time we've seen the pilot's watch transform from a indispensable instrument to -basically- one of many styles in the luxury watch market at large.
Now that the pilot's watch as an actual tool to aid in navigation and timing is all but a faint memory it's basically free-for-all, allowing brand's and their designers to have fun with materials, colors and complications. Accordingly we've seen everything from simple three-handers and chronographs to perpetual calendars and even tourbillons, in a range of shapes and sizes in every material and color imaginable. We've had the pleasure of shooting many of them over the years, and below you'll find five of the best. (plus a cool budget-friendly option)
Breitling Navitimer B01 43mm
The Breitling Navitimer has been around forever. The fact that nobody knows how to use the slide rule has never stood in the way of its popularity. It's true icon. The Navitimer got a serious upgrade in 2011, when it was fitted with the in-house caliber 01, which is so good that even Tudor uses it. Steel is the sensible option; gold just kicks ass.
Bremont Boeing Model 247 TI-GMT
Bremont has been all about pilot's watches since its early days – which were, fair enough, not too long ago. They've done some cool (and at times slightly controversial) stuff, like the ejection-seat tested Martin-Baker watches and the Wright Flyer which featured a piece of cloth from the 1903 Wright brothers plane. More recently they've teamed up with Boeing, and one of the results is the Model 247. Supposedly the titanium for the case is Boeing aviation-grade Ti 6-4 Titanium – which sounds neat*. It is powered by the Valjoux 7754, which provides it with a date and GMT hand in addition to the chronograph.
*I'm not quite sure what makes it different from regular grade 5 titanium.
Bell & Ross BR 03-92 Black Camo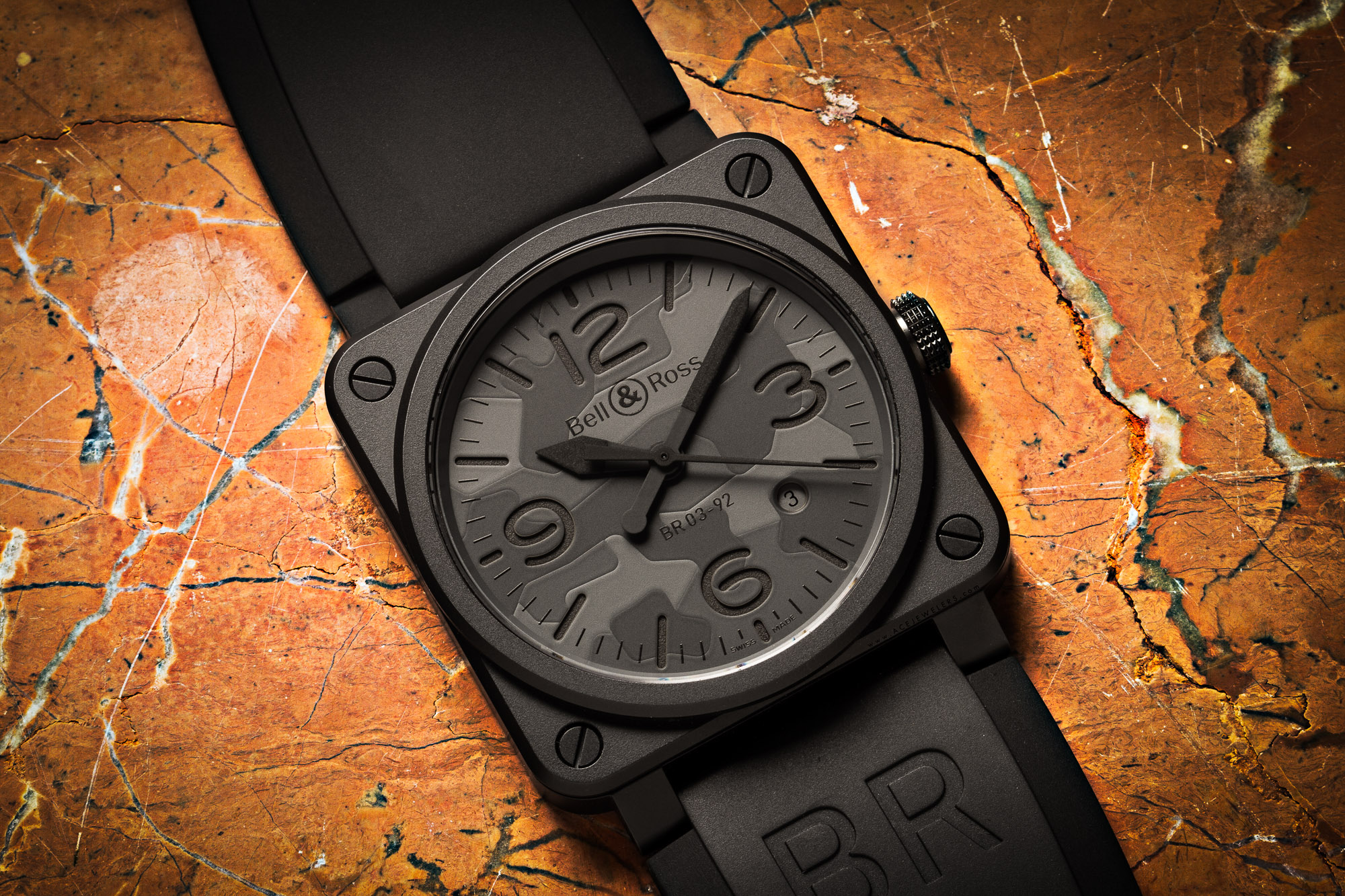 Bell & Ross introduced the BR 01 in 2005. The idea behind it was simpel: take a clock from an aircraft, and strap it to the wrist. The BR 01 and the slightly smaller BR 03 have since become emblematic for the young French brand, and provided the template for a lot of fun limited and special editions. One of them is the BR 03-92 Black Camo, which blends various themes of military aviation into a bold and fun watch.
IWC Big Pilot Le Petit Prince
What would be a list of pilot's watches without at least a brief mention of IWC? The Schaffhausen-based brand can be considered one of the original proprietors of the civilian, luxury pilot's watch. They do them a lot, and they do them well. I like the simple Mark-series best, but the Big Pilot is probably THE icon. It came out in 2002 in the form of the IW5002-01. Back then it was an exceptionally large watch; today it is just large. And while the big watch trend is either slowing down or over (depends on where you are on the curve I suppose), the Big Pilot is here to stay. It's pictured here dressed up as Le Petit Prince, featuring a lush blue dial.
Oris Big Crown D.26 286 HB-RAG
Soft-spoken Oris has a number of different pilot's lines. They have the retro-ish Big Crown, the no-BS BC3 and the decidedly modern Big Crown ProPilot – all of which are available in a number of variations. They do some really cool and unique pieces, like the ProPilot Altimeter. For this list I went with the complete opposite, which is the retro Big Crown D.26 286 HB-RAG. This funky green-eyed limited edition was created to support the work of Hangar 31, an organisation dedicated to the conservation of the Dewoitine D.26, a a training aircraft used by the Swiss Air Force between 1931 and 1948.
Budget Bonus: Seiko 5 Military SNKM95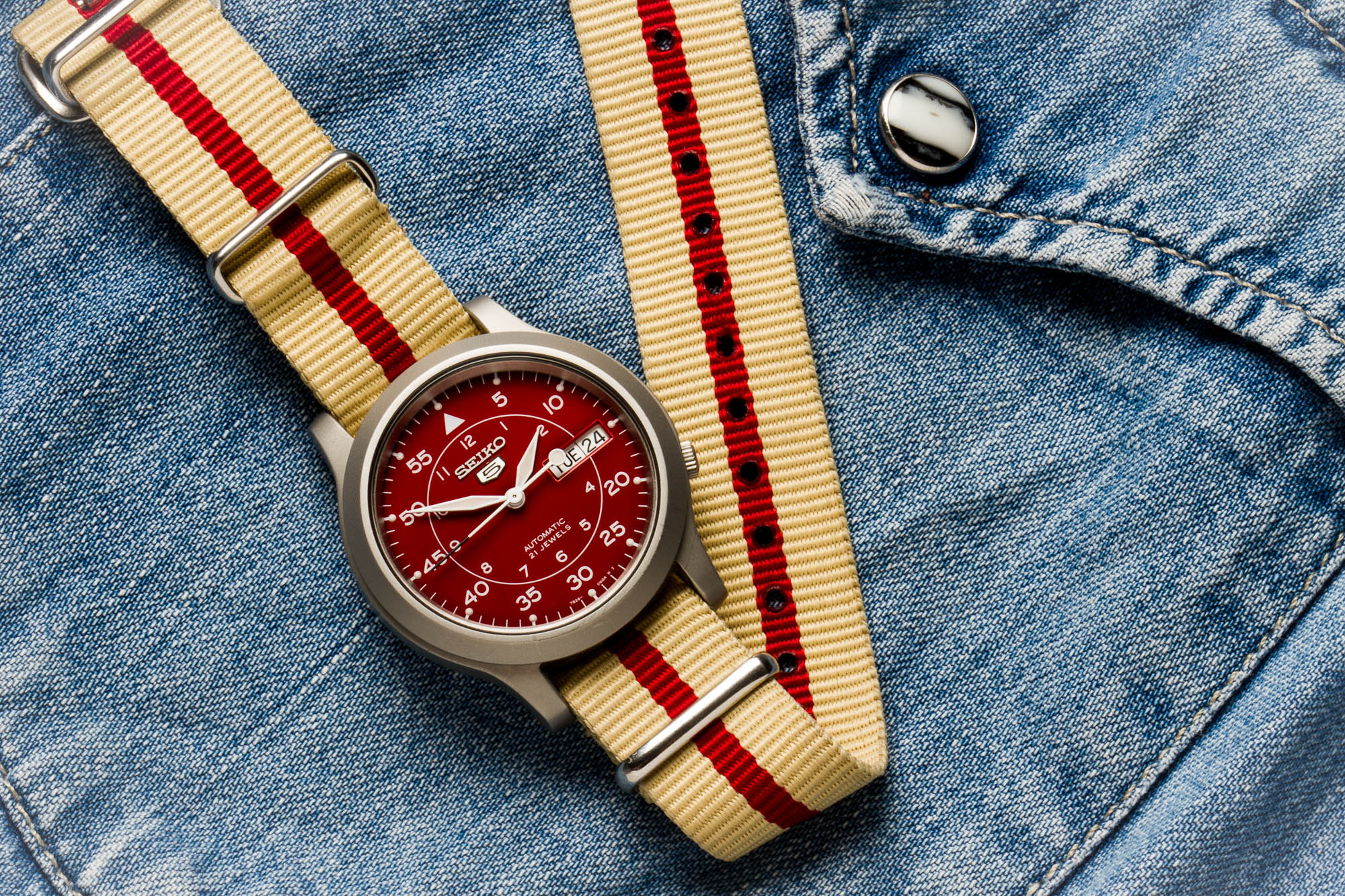 Out of budget? Don't worry. Consider the Seiko 5 Military SNKM95. With it's red dial it is exclusive to Amazon US, which makes it slightly more elusive than the beige, blue, green or black standard versions. At well below EUR 100 it is impressively affordable. It even features a see-through case back – although the movement is not much of a sight to be honest.
I can't seem to find the red one at the moment sadly, but the green
and beige
are cool too**.
All watches except for the Seiko were supplied by Ace Jewelers. Find Bell & Ross, Bremont, Breitling, IWC and Oris in their eBoutique.
**[Amazon affiliate links that benefit The Ace List]