In what seems like a few short years, Instagram has grown out to be one of the go-to sources for your daily watch fix. Today we take a look at CEO's of watch brands and their Instagram profile. Which one of them has the strongest Instagram game?
TAG Heuer: Jean-Claude Biver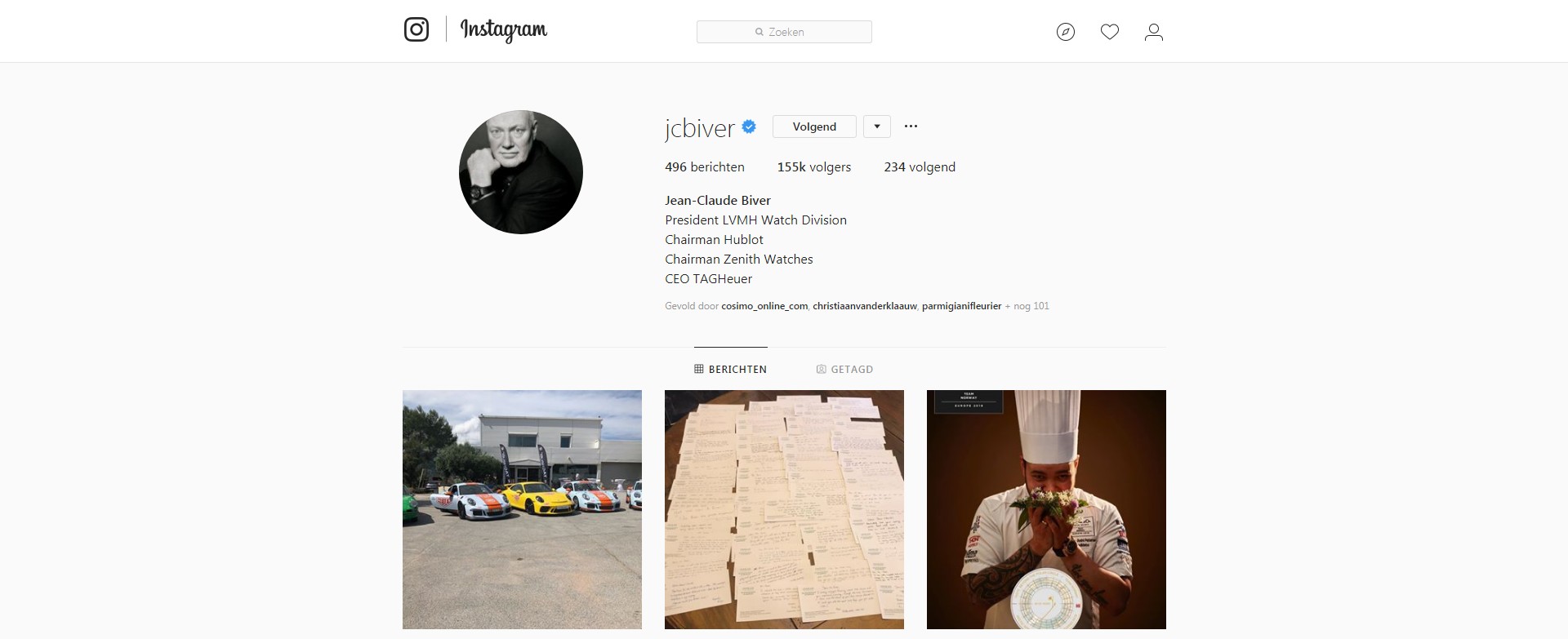 Instagram: @jcbiver
Followers: 155K
Posts: 496
Our thoughts: Jean-Claude Biver is an all-round cool guy and an icon of the watch industry. His Instagram profile shows a mix of family life, watches and sports. Heavy on the selfies, but they're always in his signature style and accompanied by personal comments. It feels very authentic. With the focus on mountain biking and skiing it's very Swiss – though Mr. Biver is in fact from Luxembourg. Sadly he hasn't been posting that much lately, we guess because of his health issues. Feel better soon!
Verdict: 5/5
Breitling: Georges Kern

Our thoughts: It's all Breitling with Mr. Kern. Even his regular sports-related posts often have the brand tied in. It's mostly watches and sports. At times it feels like a big Breitling promotion rather than a glimpse into his personal life and thoughts. Captions, especially with watches, are often not very subtle ("The ceramic bezel is stunning and the black dial in combination with that cool rubber strap really looks amazing") and could be done better. The pictures on the other hand are great, and it's cool to see all the latest models on the wrist. His interaction with the community is very good too. And we love that Colnago!
Verdict: 4/5
IWC: Christoph Grainger-Herr
Our thoughts: A mix of watches, sports, and travels. Good interaction with the community, and like with Mr. Kern it's great to see all the latest and rarest watches on the wrist. The teasing of prototypes and new stuff is very cool too – remember the Safari?
Verdict: 4/5
Bulgari: Jean-Christophe Babin

Instagram: @jc.babin
Followers: 1.486
Posts: 203
Our thoughts: the Instagram account of Mr. Babin is very personal. There are not many watches to be found in the pictures – and the other pictures are often not that interesting to those of us who do not share a personal connection with him.
Verdict: 2/5
Omega: Raynald Aeschlimann

Instagram: @raynald_08 (private)
Followers: 7.789
Posts: 324
Our thoughts: Mr. Aeschliman mixes his CEO lifestyle with lot's of wristshots. He looks like a cool guy, bit of a playboy perhaps even. The captions below the watches are much better and easier to digest than those at Mr. Kern's. The account is private, but that's probably just a trick to make it seem more exclusive – he's quick to respond to follow requests.
Verdict: 4/5
NOMOS: Uwe Ahrendt
Instagram: @-
Followers: –
Posts: –
Our thoughts: we couldn't locate an Instagram account for Mr. Ahrendt.
Verdict: NONE
Bell & Ross: Carlos A. Rosillo
Instagram: @carosillo (private)
Followers: 999
Posts: 767
Our thoughts: Mr. Rosillo's Instagram account is private and limited to 1.000 followers according to the bio – which makes it a highly exclusive club. The pictures and posts are cool, but the score verdict would have been higher if the account was open to more of us to enjoy.
Verdict: 3/5
Bremont: Gareth Morris
Instagram: @-
Followers:-
Posts:-
Our toughts: we couldn't locate an Instagram account for Mr. Morris. Our recommendation is to follow the founding brothers Nick English and Giles English, who regularly post about their watches and adventures.
Verdict: NONE
Alternatives: founders Nick English, Giles English
Zenith: Julien Tornare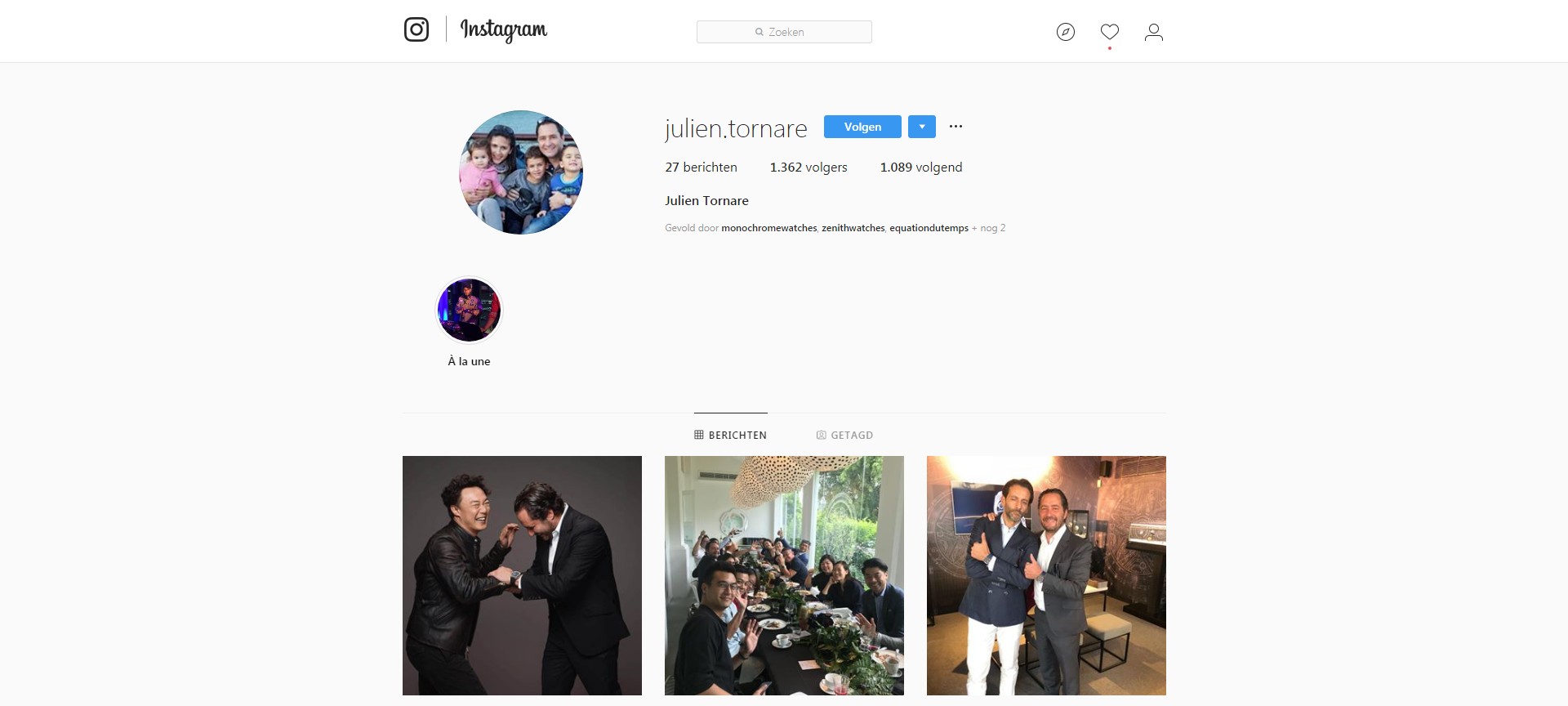 Our thoughts: The Instagram account of Mr. Tornare mostly has pictures of events, which honestly are not that interesting unless you were there. There are not a lot of post and the frequency is rather low.
Verdict: 2/5
Ulysse Nardin: Patrick Pruniaux
Our thoughts: It seems unusual for someone with a history in the tech-industry not to make use of social media. Or is it? Mmm…. The post count doesn't make it very inviting to put in a request, so no screenshot either!
Verdict: 0/5
Longines: Walter von Känel
Instagram:-
Followers:-
Posts:-
Our toughts: we couldn't locate an Instagram account for von Känel. We haven't found a suitable replacement account yet either. Let us know if you know any cool gals or guys working at Longines!
Verdict: NONE
Oris: Rolf Studer
Our thoughts: The Instagram account of Mr. Studer has a great mix of pictures. There are lots of cool wristshots too. He has relatively few followers and posts. We would love to see more!
Verdict: 4/5
Parmigiani Fleurier: –
Instagram: @-
Followers:-
Posts:-
Our thoughts: It is unclear to us at this point who is the CEO of Parmigiani Fleurier. If you like the brand but want an more intimate view, we recommend to follow Fred Tempier, the meat free, punk-rocking Parmigiani brand manager for France and the BeNeLux.
Verdict: NONE